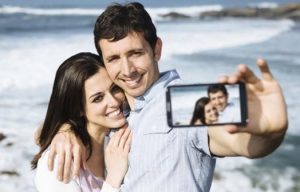 Windsor, ON – Eva Williams and Vincent Long who began dating three weeks ago have decided to abandon their individual Facebook accounts in favour of a new account named "Eva Vincent" to the alarm and dismay of their closest friends.   "I know they are happy and all but this is just too big a step after just three weeks" said Annie Talbot, a friend of Ms. Williams since childhood.

"It started out normally I guess" said another friend, Jeff Johnson "They went out a few times but I did notice Vince was posting way too many selfies of the two of them together and his status updates were getting kind of nauseating.  They were all about being in love for like two week in a row and now this.  It is unsettling".
"I think they are really rushing into this whole shared account thing" Ms. Talbot added while admitting there wasn't much she could do about it except perhaps reporting the couple's shared account for violating Facebook's terms of service. "I don't want to take that step but there is only so much happy-coupling I can take.  Hopefully Eva comes to her senses and returns to her original profile so I can tag her in girls-night-out pictures again" Ms. Talbot said while reviewing her news feed on Wednesday.