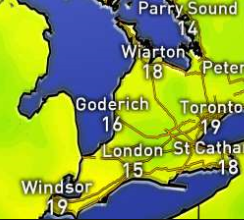 Windsor, ON – Ethan Carter of Windsor has been upset for the last three months about the heat and humidity. "I'm 68 years old and I've had the air-conditioning running all summer and my electricity bill has been extremely high as a result. It was too hot all summer and the AC has been running since May" said Carter.

With the weather changing this past week to lower temperatures Mr. Carter had to turn his heating on for the first time "Had to turn the heating on before the end of September now my gas bill is going to go up!" Mr. Carter usually reserves his gas-heating rants until October or even November but has had to rearrange his complaint schedule to match the weather.
In addition the weather has not changed enough to significantly change the recreational habits of the children in Mr. Carter's neighbourhood. "It's not cold enough to keep the little SOB's in the house so they still run across my lawn and I just fertilized it" Carter complained. Eye-witnesses also report that the complaint-minded senior still has two baseballs and a Frisbee that landed in his yard earlier this year.
When asked about his plans for the upcoming weekend given that temperatures are expected to remain lower Mr. Carter advised that he plans on going to Tim Horton's, ordering soup and then sending it back several times as he is sure the soup will be too cold.