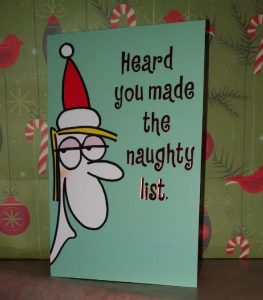 Windsor, ON – Wayne Marcus, aged 38, of Windsor has spent the Christmas holidays trying to decide whether he should reply to a Christmas card he received from an ex-girlfriend this year. "Her card arrived on December 24th and I didn't think I'd ever get a card from her again.  We had an ugly break-up" Marcus explained on Wednesday.

"I have a general rule that I follow. If I have seen someone naked in the previous eleven months I send a card.  But I haven't seen Denise since December 2016 so I didn't send a card and then this shows up on Christmas Eve.  I just don't know what to do" the puzzled card recipient said.
Marcus is currently debating whether he should head out to the mall today and try and buy a discounted Christmas card and get it in the mail or ignore his receipt of his ex-girlfriends card altogether saying " I should probably just ignore it but I'm thinking that I'm going to mail a card back today. It only seems like the polite thing to do and who knows?  If it gets delivered on time maybe we can hook-up on New Year's Eve and if I see her naked then I'll know to send a card in 2018".