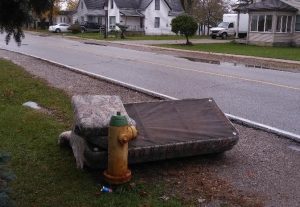 Windsor, ON – The remains of a couch were discovered on Windsor's east side on Tuesday afternoon. Witnesses said the couch had actually been sitting outside since the weekend but it wasn't until it was overturned that nearby residents realized that the couch was dead.

"It's heartbreaking" said a Reclining Chair, who did not want to give his name, from a nearby apartment building "The Couch and I have been in the same living room set for over ten years and he just disappeared last Saturday morning and now this.   You hear about things like this but you never think it will happen to furniture you know.   I haven't let the Coffee Table out of my sight since this happened".
A Floor Lamp added "You could always count on the Couch.   He was the focal point of our lives.  He never bothered anyone, kept to himself but if you ever needed to stretch out and watch television he was there for you".    The investigation continues.