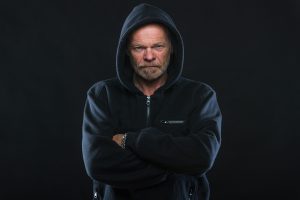 Windsor, ON – Clint Richardson, age 63, of Windsor, Ontario who has spent most of the last fifty years complaining about life, politics, religion and those "damn kids that walk across my lawn" to his friends, family and co-workers has recently discovered social media. "I was never interested in those stupid computers and Google and the Facebook but last week I went on the Facebook and discovered an entirely new world where I can rant about anything I want!" Richardson exclaimed while describing his new hobby.

"I got myself on the Facebook and just started disagreeing with people. It was magical.  I can't describe the elation I had when I commented on a post or a story and just argued the opposite point the person was trying to make.  They get so upset!" Richardson said.  He continued "I get to talk about my 9-11 conspiracies, U.S. politics, the price of beer and Windsor city council.  You bring up any one of those topics and people freak out!   It is so much fun.  I don't even have to leave the house.  Before this I had to go to the pub to reach this many people at one time.  I've been told by other people on the internet that I am a troll!  I love it! I'm a troll!"
When asked for comment about her father's new past-time Mr. Richardson's daughter replied "not sure what he is up too on social media. I blocked him last week".