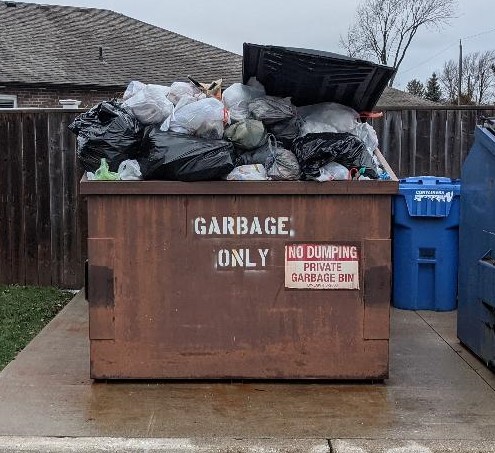 Windsor, ON – A garbage dumpster located behind an apartment building on Pillette Avenue on Windsor's east-end was the scene of a record setting attempt of placing 'just one more bag' of garbage on an over-flowing bin.
Nervous on-lookers, building tenants and media gathered in a socially distanced manner nearby to watch Ronald Munn, age 68, of Windsor march slowly towards the dumpster on Tuesday morning with a small bag of garbage in hand. "I'm feeling kind of anxious" said Mr. Munn adding "I'm really hoping this turns out okay and my aim is true when I make my toss onto the top of the pile."
After several minutes lining up his trajectory Mr. Munn launched his small white garbage bag into the air where it hit the top of the pile bounced once and settled into place at the top of the pile of garbage.  A low gasp followed then a loud cheer erupted from the crowd as Mr. Munn pumped his fist. 
When asked for comment one building resident said "I can't believe Ronnie did it.   I would never have tried that myself.   I know it is probably the current lockdown restrictions and being really bored but that was the most exciting thing I've seen since I watched a live web-stream of Apartment 602 clearing a clogged drain last month."