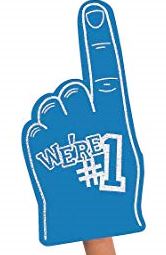 Windsor, ON – Local sports aficionado Larry Moxley, age 42, of Windsor is looking forward to the Toronto Raptors first appearance in the NBA Finals tonight.   "I've actually never watched an entire basketball game from start to finish but I am very excited about the Raptors run to a championship!"

Mr. Moxley reports that in addition to never having seen an entire game before that he also just purchased his first basketball jersey "I used to have a Harlem Globetrotters t-shirt when I was a kid but this week I bought a Raptors jersey. I got a Leonard Kawhi jersey since we both have the same first name I thought I'd get his jersey to show my support".
"Last time I was this charged up for a game was when the Blue Jays were in the major league baseball playoffs. I bought a big foam finger that year.   I couldn't find a Raptors one this year but with any luck someone will give me the finger tonight" Moxley said as headed downtown to get a spot at Charles Clark Square to watch the game.