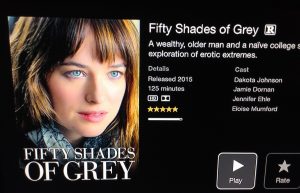 A new on-going feature at What's Up Windsor.  The One Minute Movie Review.  This week Fifty Shades of Grey.

Review:  I got bored about five minutes into the film so I fast-forwarded to the naked parts and watched those.  No idea what the plot was really but the naked parts were okay.
Reasons to watch:  It's on Netflix and the naked parts. I'd maybe watch those again.
Rating: 3 out of 5 stars.