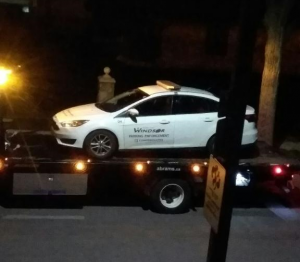 Windsor, ON – A new unit has been established within the Windsor Police force to deal with crimes that are deemed to be ironic in nature.      Staff Sergeant Trent Gill announced on Wednesday that the unit would be diligently tackling irony in Windsor and the related ironic crimes and would be starting with parking enforcement vehicles.

"We often see the parking enforcement vehicles parked illegally so last weekend we started our new initiative and ticketed or towed several parking enforcement vehicles that were double-parked or at sitting at expired meters" Gill told gathered media on Wednesday.
When asked for comment the driver a parking enforcement vehicle that was towed said "I was only inside the store for a minute. You would think they would have better things to do with their time and tax-payers money than going around giving out tickets and towing cars".