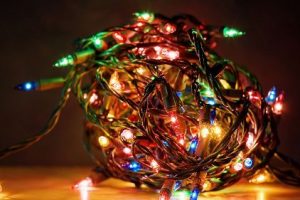 Windsor, ON – Alan Cole, aged 42, of Windsor is one of the first people to benefit from City Council's decision on Monday night to spend $3 million on a massive holiday lights display at Jackson Park this year.   Cole spent the morning looking thru his Christmas ornaments and lights and found a 25-foot long string of lights.

"I took them right down to city hall and sold them for $14,000" an excited Cole told gathered media on Tuesday "I didn't even have to untangle them".   Councilman Frank Edwards explained the purchase "We're going to need a lot of lights and we've got three million dollars to spend so I thought why not keep this local and support local entrepreneurs like Mr. Cole?  So I went ahead and bought his lights.   The price might seem a little high but the city will get the benefit of these lights for years to come".
Once Mr. Cole's lights are untangled and put in place he said he plans to visit them at Jackson Park once the entire display is set-up.  As for his new windfall he plans to use the money to re-pave his driveway "It's got some cracks and holes in it so I'd like to get it repaired".