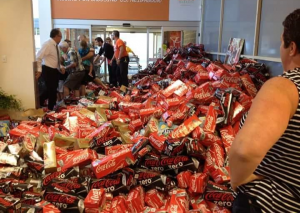 Windsor, ON – Matt Foster, aged 35, of Windsor, Ontario who holds a family game night record of 371 consecutive Jenga victories over friends and family had a decidedly bad experience while grocery shopping this past weekend.   As Foster entered the grocery store he paused at the pop-display pyramid to apply his Jenga skills to retrieving a case of Coca-Cola when things went awry.

Jenga is a popular game where players take turns removing one block at a time from a tower constructed of 54 blocks and is a favourite at the Foster household.  "Being so good at Jenga I was very confident I could pull a middle case from near the bottom. I've done it at the kitchen table at home a hundred times with the blocks" Foster said amid the carnage of Coca-Cola and Diet Coca-Cola fridge mates. "I have been on such a hot streak playing Jenga I was really sure I could pull this off but I guess I misjudged things" he added.
Bystanders report that for a moment Foster's withdrawal of the pop case seemed to go fine as he pulled out a case from near the bottom of the pyramid.  As Mr. Foster held the case above his head imitating a Stanley Cup trophy ceremony there was a rumbling sound and the display began to topple.
No injuries were reported but the broken pickle jar clean-up on aisle five has been put on indefinite hold while workers prioritized the rebuilding of the Coca-Cola pyramid.  "I'm going to stick to playing Operation from here on out" Mr. Foster advised as he left the store.