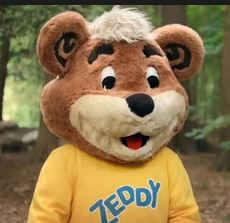 Windsor, ON – Zeddy, the lovable mascot employed by Zellers Department Stores has turned up in Windsor, Ontario and is now homeless after being unemployed the last four years.  "It started to go bad right after the last Zellers store closed in 2013.  I started drinking, my wife left me and I kept spiraling downward" said Zeddy during a recent chat on Wyandotte Street East.

"Everyone was so excited about Target stores opening.   How did that work out  mother-f####r!!!" the former mascot exclaimed.  The despondent Zeddy added "And did those sons-of-bitches at Target even give me an interview?  No, they didn't!  I can't find anything.  I can't even get a spot doing stand-ins for that overrated A & W Great Root Bear".
When asked what was next and how he might get his life back on track Zeddy advised that he plans to stop drinking and may attempt a comeback in the theatre.  "I heard there might be a Sweeney Todd revival coming up so I'm going to contact my old agent and get some new head shots done".