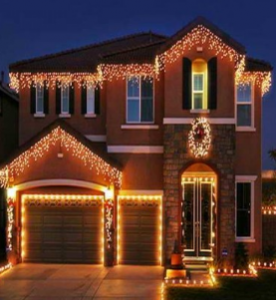 Windsor, ON – Mathew Cross who lives in the Fountainbleau subdivision in East Windsor was pleased to announce that he was the first person in Windsor to have his entire house decorated for Christmas this year.   "Last year I waited until Thanksgiving and the new guy who moved in two houses down got his lights up before me. Well, not this year!" Mr. Cross proclaimed to on-lookers at his tree-lighting ceremony on Wednesday evening.

Cross went on to say "I've been working on this lighting display since January. It's a great feeling to have the house ready for Christmas before the first day of fall". When asked why it was so important to have his lights up earlier and earlier every year Mr. Cross stated he really just wanted to have his lights up before his neighbour.  "The new guy was bragging all around the neighbourhood last year that his lights were the first ones up so I wasn't going to let that happen again.  I've been waiting almost a year to be number one again so I took some vacation time from work and spent the last two weeks tracing my light strings as I had a few burnt out bulbs".
When asked what his plans were for the holiday season Mr. Cross stated "Next up I will keep watching the calendar waiting for the day WNIC to turn it's music format to all-Christmas music, all the time".   In addition the Christmas enthusiast is planning on staking out a really good parking spot at Devonshire Mall and holding it for as long as he can over the holiday shopping season.