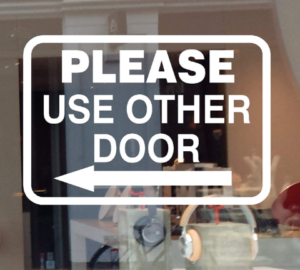 Windsor, ON – A mystery for the ages continues to baffle Windsorites at a local medical clinic.   The two door entrance at the front of the clinic has an open side and a second door with a sign reading "please use other door".   The second door is always locked and despite the warning sign hundreds of clinic goers attempt to open it on a weekly basis.
"I just thought today would maybe be the day it was unlocked" said one regular attendee of the building after failing to open the door adding "I come to see my doctor about once every three months and I try the door every time.  There is an excitement about it.  Imagine if I were the one to finally open the door?  It would be like King Arthur pulling the sword from the stone".
Another building attendee had a different explanation "I'm just kind of stupid and don't read signs".