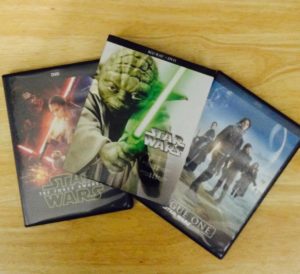 Windsor, ON – Michael Buckingham, age 21, of Windsor spent the better part of two weeks trying to explain the Star Wars movie timeline to his father without success. "How hard is this to understand? I mean he saw the first movie at the Skyway Drive-In in 1977 and today he can't comprehend that Rogue One occurred before A New Hope?" a frustrated Buckingham said on January 1, 2020.
Mr. Buckingham explained his frustrations further "Everything starts with the Battle of Yavin and you go from there. I started trying to get him ready for the release of the Rise of Skywalker over two weeks ago and he started asking questions about Jar Jar Binks! He actually said to me 'I go to the movies, I watch them, I enjoy them and then I forget about them', what kind of sick attitude is that?"
When asked what he planned to do prior to letting his father watch The Mandalorian on Disney + Mr. Buckingham has decided on a unique course of action "I can't even begin to try and explain this to him without getting a DNA test. There is no way I can be related to this guy".