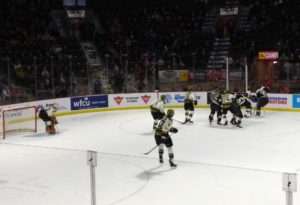 Windsor, ON – Windsor Spitfires season ticket holder Brian Banner, age 41, thinks he knows why the Spitfires have been struggling lately "They aren't listening to me. I'm yelling instructions during the play and not one player on the team listens to my advice".

"During the last two games when the Spits have been on the power-play I yell at them to shoot and instead they pass the puck.   I've been coming to Spitfires games since I was twelve years old and four years ago I scored seventeen goals in my beer league so I think I know a thing or two about goal-scoring" Mr. Banner added.
Even if the players don't listen to his coaching advice Banner says he will still come to Spitfires games "Besides yelling instructions to the players I like to come to the game and make funny remarks really loudly. Like when a player takes a shot and the puck goes out of play I yell out 'He should have used a nine-iron' and everyone around me laughs.   Well some of them laugh.   I think my attendance really adds to the games".